Auto Credit
Based on InfinityTechnology's
B7479
Problem fixed:Here
Hello everyone,Today I will share an airliner with you.
This is a kind of Boeing 747 which servicing in China International Airlines,I called it Air China-Boeing 747.
Here is the way to run it:
1-Put it on the runway.
2-Slider1 Down to pull down the flaps
3-TAB to show the Nav Sphere and turn to 20-45 degrees above the pod's white cone.
4-Throttle-speed up and take off!
(Maybe the center of lift is not so good)
Brake can activate the brakes and the thrust reverser system in the engines.
Here is the describition of other things of the plane:
1-Cockpit interior
The cockpit interior is referenced by many pictures on the Internet,so maybe it isn't the orginal cockpit of Boeing 747.
Main control rods-Controlled by Pitch,roll,Flaps and Throttle.
Other control rods-controlled by AG10-Landing gears,AG1,2,3,4,5 and Slider2.
Lights can be activated by AG7, but the windows need to change their colour to achieve to bright.
This is my first airliner with some details,if you like,please give me an upvote,thanks a lot!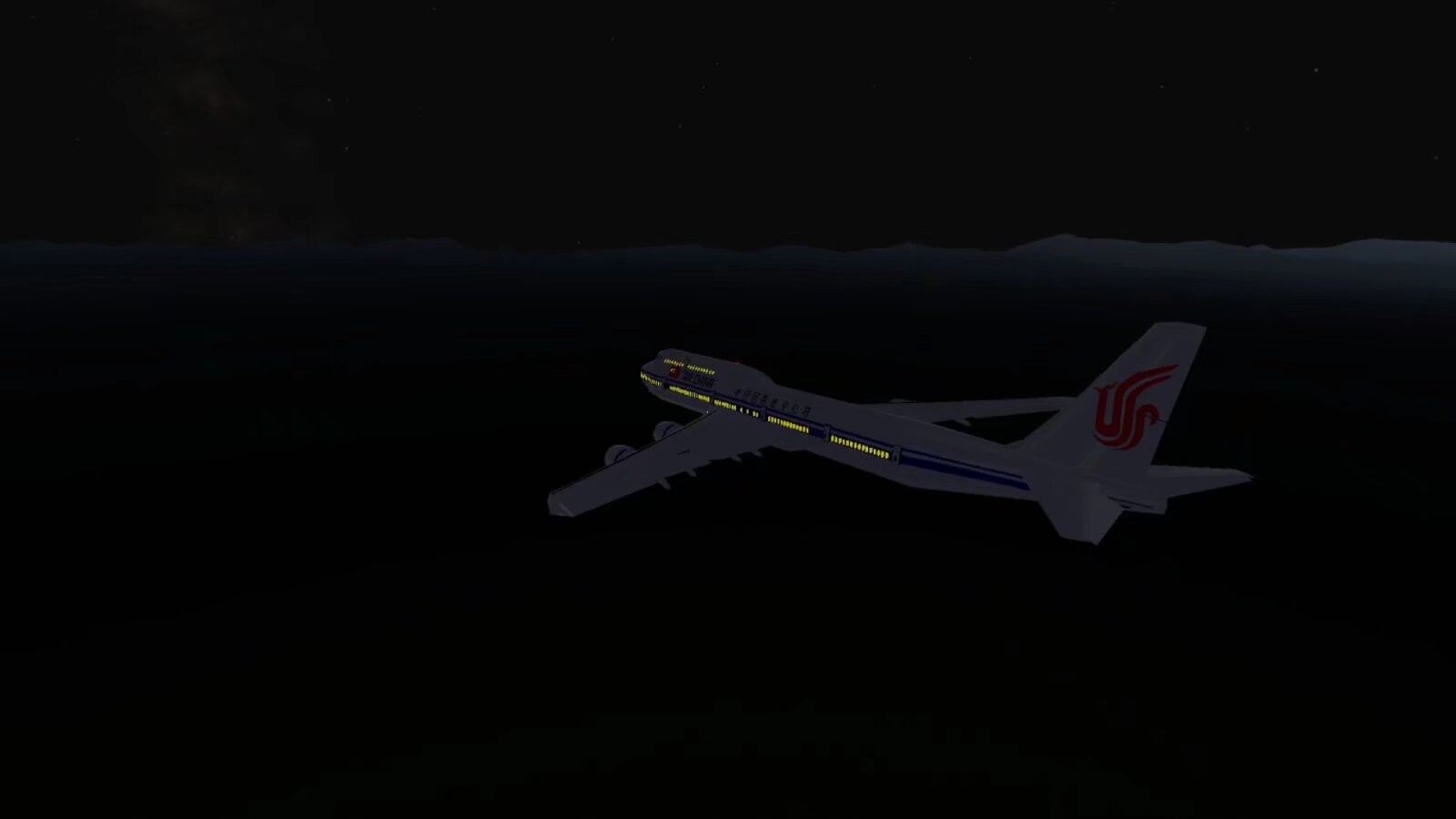 GENERAL INFO
Predecessor:

B7479

Successors

1 craft(s)

+12 bonus

Created On:

Windows

Game Version:

0.7.3.2

Price:

$1,087,189k

Number of Parts:

2882

Dimensions:

55m x 197m x 229m
PERFORMANCE
Total Delta V:

0m/s

Total Thrust:

0N

Engines:

10

Wet Mass:

36,823kg

Dry Mass:

-2,882,126kg
STAGES
| Stage | Engines | Delta V | Thrust | Burn | Mass |
| --- | --- | --- | --- | --- | --- |
---