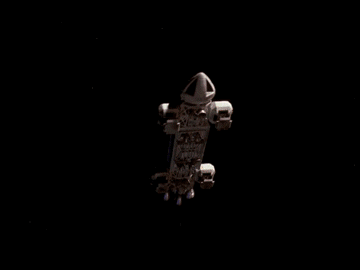 The Eagle Transporter is a fictional spacecraft seen in the 1970s television series Space: 1999. The Eagles serve as the primary spacecraft of Moonbase Alpha, which has a fleet of them, and are often used to explore alien planets, defend Moonbase Alpha from attack, and to transport supplies and other items to and from the Moon. The Eagle was designed by Brian Johnson, who had worked with Gerry Anderson on Thunderbirds in the mid-1960s and had produced the spacecraft for the 1968 film 2001: A Space Odyssey. The Eagles are constructed by the engineering and technical section of Moonbase Alpha using materials and components either shipped from Earth or manufactured on the Moon. The latter is usually proposed as a rationale for the perceived seemingly endless supply of Eagles despite their frequent losses. At the time of the episode "The Last Sunset", dialogue indicated that there were twenty-eight serviceable Eagles on the roster.
This version is a mix between the original and Ted River's version of the spacecraft.
Controls
-Always lock heading
-AG1 for the VTOL engines
-AG2 for the landing legs (landing tolerance is 3-4 meters per second)
-AG3 for the main nuclear engines
-AG4 for the parachutes
-AG5 for opening the ventral heat shields
Notes
-You'll have to do minor roll corrections during reentry (remember to slow down with the main engines!)
-Parachutes usually work but you know how they perform lol
I made this for my 2 year special, I don't have much free time to play this game anymore so don't expect me to post nearly as consistently as before, take care everyone!
-Bromine
---