Enjoy this highly detailed replica of the R-7 "Semyorka" ICBM.
Features the Korolev Cross
Don't forget to upvote if you liked it.
Watch this showcase of the missile: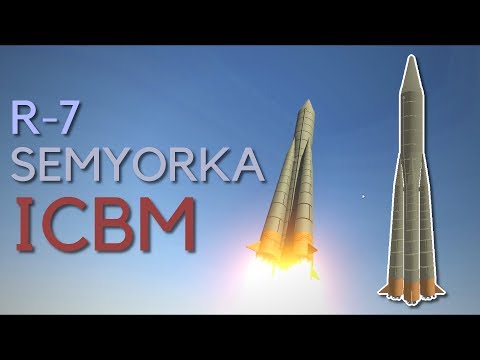 Controls
Before you start, set your desired heading
Stage 1: Ignition of side boosters
Slowly turn to 60° elevation and ascend until the fuel depletes
Stage 2 & 3: Seperation of side boosters
Activate Stage 2 & 3 in very quick succession as Stage 2 activates the boosters to push the side boosters away which only last a few seconds
Proceed to build up horizontal velocity at an elevation below 30° until you reach your desired trajectory
After you have turned the booster off, lock the launcher to prograde
Once you have escaped the dense part of the atmosphere at approximately 30,000 m you may blow of the fairing
Stage 4: Fairing
Stage 5: Seperation of the 3 megaton nuclear warhead
Description
The R-7 was a Soviet missile developed during the Cold War, and the world's first intercontinental ballistic missile. The R-7 made 28 launches between 1957 and 1961, but was never deployed operationally. A derivative, the R-7A, was deployed from 1959 to 1968.
To the West it was known by the NATO reporting name SS-6 Sapwood and within the Soviet Union by the GRAU index 8K71. In modified form, it launched Sputnik 1, the first artificial satellite, into orbit, and became the basis for the R-7 family which includes Sputnik, Luna, Molniya, Vostok, and Voskhod space launchers, as well as later Soyuz variants.
The widely used nickname for the R-7 launcher, "Semyorka", means "the 7" in Russian.
The R-7 was 34 m (112 ft) long, 3.02 m (9.9 ft) in diameter and weighed 280 metric tons (280 long tons; 310 short tons); it had two stages, powered by rocket engines using liquid oxygen (LOX) and kerosene and capable of delivering its payload up to 8,800 km (5,500 mi), with an accuracy (CEP) of around 5 km (3.1 mi).
A single thermonuclear warhead was carried with a nominal yield of 3 megatons of TNT. The initial launch was boosted by four strap-on liquid rocket boosters making up the first stage, with a central 'sustainer' motor powering through both the first and the second stage. Each strap-on booster included two vernier thrusters and the core stage included four. The guidance system was inertial with radio control of the vernier thrusters.
GENERAL INFO
Successors

1 craft(s)

+28 bonus

Created On:

Windows

Game Version:

0.6.5.0

Price:

$27,212k

Number of Parts:

176

Dimensions:

34 m x 9 m x 9 m
PERFORMANCE
Total Delta V:

4.3km/s

Total Thrust:

6.1MN

Engines:

40

Wet Mass:

1.93E+5kg

Dry Mass:

-20,511kg
| Stage | Engines | Delta V | Thrust | Burn | Mass |
| --- | --- | --- | --- | --- | --- |
| 1 | 32 | 4.3km/s | 4.6MN | 3.1m | 1.93E+5kg |
| 2 | 8 | 12m/s | 1.5MN | 2s | 1.93E+5kg |
---