READ BEFORE DOWNLOAD
This craft uses vizzy to make it easier to control, and also stabilizes the craft so it doesn't get off track.
---
Hello This time I introduce my new craft. USS - Black Shark. USS - Black Shark is a fictional submarine,made by America in 20xx
---
Control And Usability


This Submarine uses propeller power to run.Use Throttle to control its speed.


Yaw = Use Yaw to change the direction of the submarine,


Use AG : 1 For Reverse Mode


When The Pitch Exceeds The Angle Of Attack Then The Pitch Position Will Return To Its Original Position, As Well As Roll you don't have to worry if this craft rotates itself without your control


---



Slider1 to -1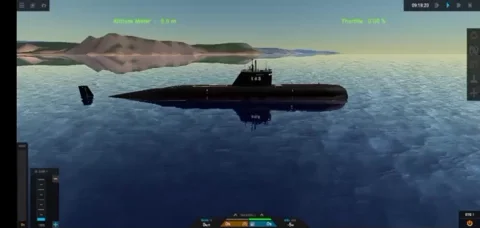 Slider1 to +1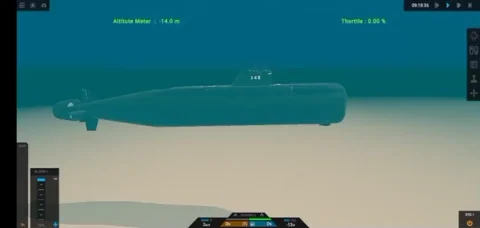 ---
FEATURE

AG 1: Reverse Mode
AG 2: Light
AG 3: Ballistic Missile Compartment
AG 4: Front Light
If you want to dive Use Slider1 to dive and return to the surface

Use Slider 1 to -1 to dive, and Slider 1 to 0 / +1 to return to the surface
---
Equipped With A Vizzy Height Meter, So You Can See Your Altitude Easily
---
Recommended Settings!!
Water Settings
Physics Settings
---
Thank You FACHRI789 And Friends Who Have Helped
Thanks Rizkyman For The Advice
---
Note

Require High Water Physics
Require High Physics
if you are on a computer or laptop device, if you have a problem with Yaw you can delete the Yaw program section in vizzy settings

---
Details Of The Exterior Of The Submarine
GENERAL INFO
Successors

1 craft(s)

+7 bonus

Created On:

Android

Game Version:

0.9.704.0

Price:

$3,607k

Number of Parts:

947

Dimensions:

18 m x 12 m x 83 m
PERFORMANCE
Total Delta V:

0m/s

Total Thrust:

0N

Engines:

0

Wet Mass:

69,571kg

Dry Mass:

-107,900kg
| Stage | Engines | Delta V | Thrust | Burn | Mass |
| --- | --- | --- | --- | --- | --- |
---