NEW CURVED LOGO
This is my first public curved logo, made using the Multi-Function Display (MFD) component. It draws the logo after starting the game. By default the logo comes with a 1m radius (2m diameter), but you can use the reference table below to change it.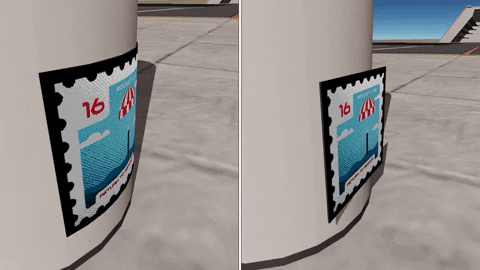 ---
Instructions for updating diameter of curved logo:
Select the strut that is located behind the MFDs
Un-group the strut and 7 MFDs
Rotate and position the 7 MFDs according to the reference table in the image shown below. First select your desired diameter (or the next size up), then find MFD panel #1 (far left when looking head on), update rotation and X-Z position, then continue on until you've updated all 7. They should look seamless when you're finished.
Re-group the MFD panels by selecting the strut and pressing the group button
Drag the strut (with MFDs attached) to the subassembly icon and create a new subassembly
Load the subassembly into your desired craft
Attach the curved logo to your craft using the strut, then reposition it also using the strut. Ensure there is no clipping of any of the MFDs.
Paint the MFDs the same color as your craft (maybe a couple shades darker) to create a transparency effect (if applicable)
Load into your game and watch the curved logo generate!
Sorry this image is so small. If you click, it will take you directly to the image link in Imgur.

---
About this logo
Rocket Lab's 16th Electron launch 'Return to Sender' successfully launched November 20, 02:20 UTC from Rocket Lab Launch Complex 1 in New Zealand.
The Electron launch vehicle lofted 30 satellites to a sun-synchronous orbit at 500 km altitude for a range of customers, including TriSept, Unseenlabs, Swarm, Auckland Programme for Space Systems, and global gaming software company Valve.
This mission also included Rocket Lab's first attempt to bring Electron's first stage back to Earth under a parachute system for a controlled water landing before collection by a recovery vessel - a major milestone in Rocket Lab's pursuit to make Electron a reusable rocket to support an increased launch cadence for small satellites.
---
GENERAL INFO
Predecessor:

[Logo] CCCP (1 Part)

Created On:

iOS

Game Version:

0.9.509.0

Price:

$632k

Number of Parts:

9

Dimensions:

2 m x 2 m x 2 m
PERFORMANCE
Total Delta V:

0m/s

Total Thrust:

0N

Engines:

0

Wet Mass:

1,104kg

Dry Mass:

1,098kg
| Stage | Engines | Delta V | Thrust | Burn | Mass |
| --- | --- | --- | --- | --- | --- |
---