[Basic Info]
This craft consists of the Nylon E-28 orbiter and six of the Ion reactors in place of it's 9 chemical engines.
Aspects of the orbiter, besides the reactors, have also been tweaked/improved. Those including a 2m height increase in the cargo bay, a 47.38% decrease in mass and RCS power as well as an increase in gyroscope power.
The reactors on this version of the orbiter extend and retract for protection of the reactors as well as to expose it's solar panels to the sun.
---
𝗣𝗮𝘆𝗹𝗼𝗮𝗱 𝗖𝗮𝗽𝗮𝗯𝗶𝗹𝗶𝘁𝘆
𝗧𝗼 𝗟𝗘𝗢/𝗚𝗘𝗢: 280 Metric Tons
𝗧𝗼 𝗟𝘂𝗻𝗮𝗿 𝗢𝗿𝗯𝗶𝘁: 280 Metric Tons
𝗧𝗼 𝗠𝗮𝗿𝘁𝗶𝗮𝗻 𝗢𝗿𝗯𝗶𝘁: 280 Metric Tons
---
[Staging/Flight Info]
Run through the stages as seen.
Stage three is associated with the cargo bay and is the docking port. Activating it will turn on the port but shouldn't undock it's cargo.
𝗟𝗮𝗻𝗱𝗶𝗻𝗴 𝗧𝗶𝗽𝘀:
When landing be sure to have the gyroscope activated.
Use RCS in translation mode to make adjustments and slow down especially if landing on lunar surfaces as the reactors may provide too much thrust.
[Action Groups and Sliders]
1) Reactors
2) Reactor Extension
3) Cargo Bay
4) Cargo Extension
5) Cargo Rotator
-Slider 1
6) Solar Panels
7) Landing Legs
8) RCS
9) Gyroscope
𝙏𝙞𝙥𝙨:
Do not extended the reactors before you launch off the pad as they will either break off or explode.
During/After atmospheric re-entry, if you pitch at the right angle, you can glide quite a ways if needed
[Note]
If there any craft problems leave them below and enjoy!
---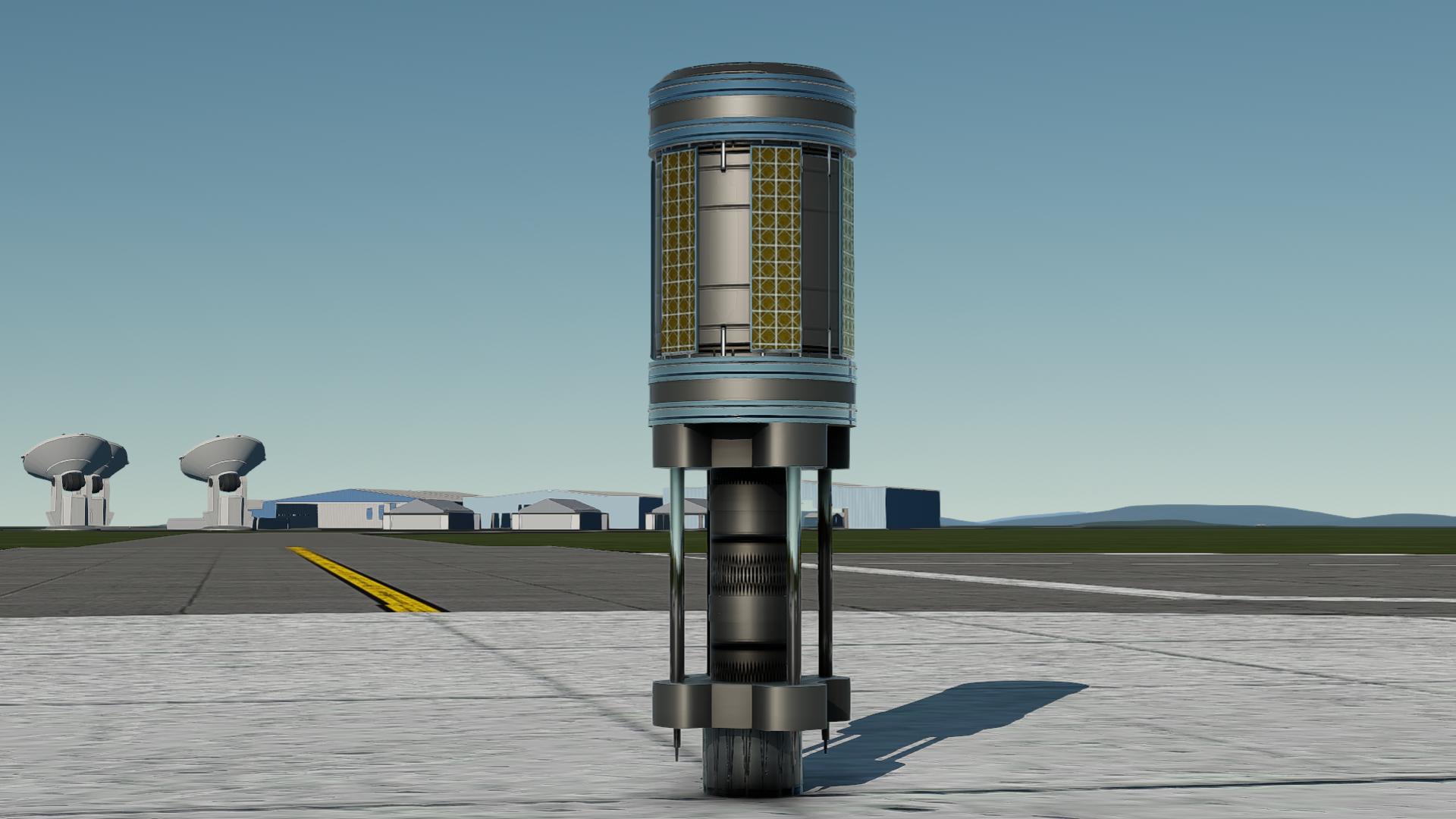 ---
GENERAL INFO
Successors

1 craft(s)

Created On:

Windows

Game Version:

0.9.802.0

Price:

$150,821k

Number of Parts:

889

Dimensions:

45 m x 15 m x 15 m
PERFORMANCE
Total Delta V:

1,021.8km/s

Total Thrust:

5.6MN

Engines:

6

Wet Mass:

2.47E+6kg

Dry Mass:

1.74E+6kg
| Stage | Engines | Delta V | Thrust | Burn | Mass |
| --- | --- | --- | --- | --- | --- |
| 1 | 6 | 1,021.8km/s | 5.6MN | 5.24days | 2.47E+6kg |
---