[𝗕𝗮𝘀𝗶𝗰 𝗜𝗻𝗳𝗼]
𝖳𝗁𝖾 𝖠𝗌𝗍𝗋𝗎𝗆 𝖨𝖵 𝖧𝖾𝖺𝗏𝗒 𝗂𝗌 𝖠𝗌𝗍𝗋𝗈 𝖠𝖾𝗋𝗈𝗌𝗉𝖺𝖼𝖾'𝗌 𝗉𝗋𝗂𝗆𝖺𝗋𝗒 𝗋𝖾𝗎𝗌𝖺𝖻𝗅𝖾 𝗌𝗎𝗉𝖾𝗋 𝗁𝖾𝖺𝗏𝗒 𝗅𝗂𝖿𝗍 𝗅𝖺𝗎𝗇𝖼𝗁 𝗏𝖾𝗁𝗂𝖼𝗅𝖾 𝖽𝖾𝗌𝗂𝗀𝗇𝖾𝖽 𝗍𝗈 𝖽𝖾𝗅𝗂𝗏𝖾𝗋 𝗆𝗈𝖽𝖾𝗋𝖺𝗍𝖾 𝗌𝗂𝗓𝖾𝖽 𝗉𝖺𝗒𝗅𝗈𝖺𝖽𝗌 𝗂𝗇𝗍𝗈 𝗈𝗋𝖻𝗂𝗍.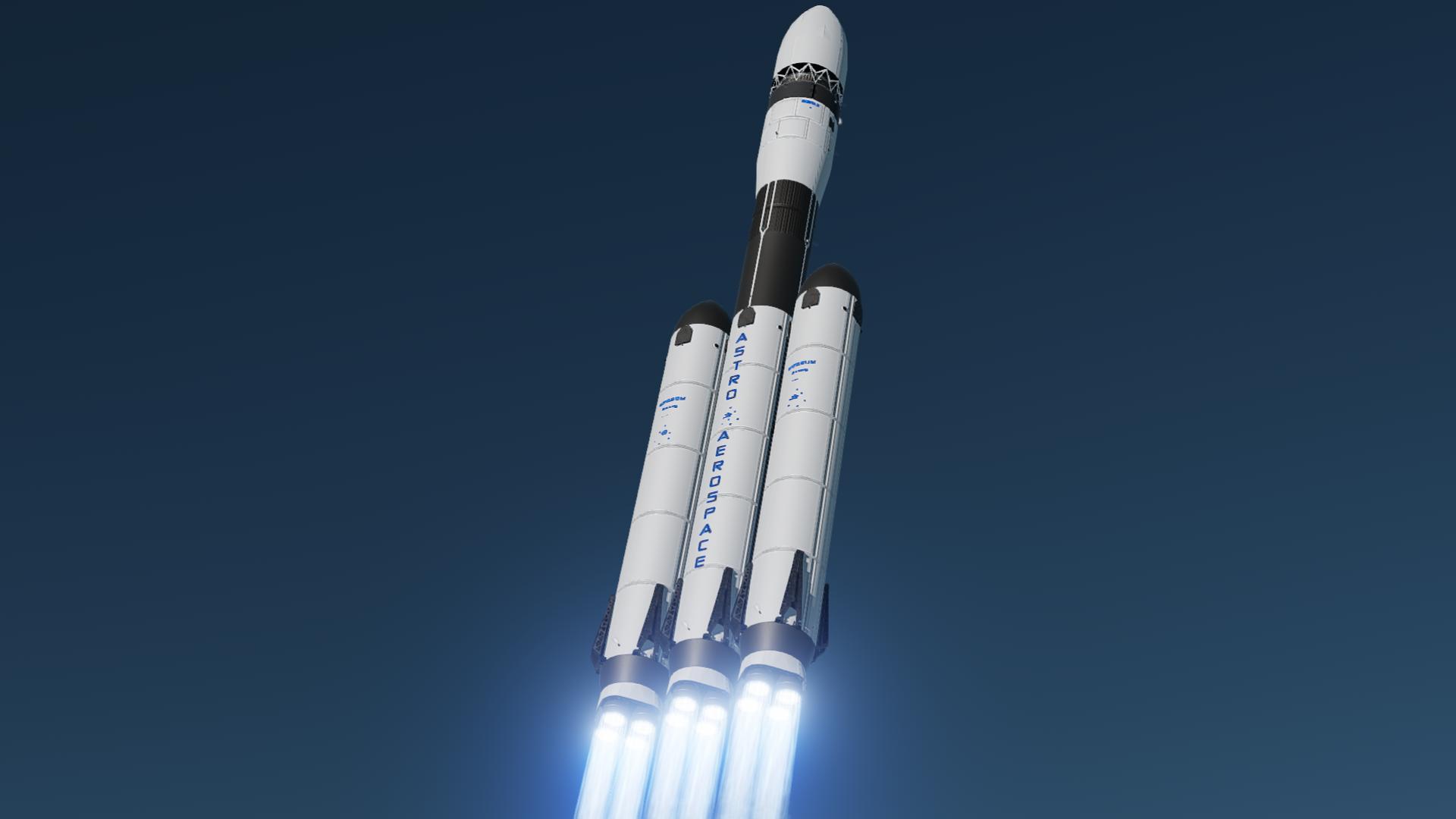 ---
𝗣𝗮𝘆𝗹𝗼𝗮𝗱 𝗖𝗮𝗽𝗮𝗰𝗶𝘁𝘆
𝗧𝗼 𝗟𝗘𝗢/𝗚𝗘𝗢: 70-90 𝖬𝖾𝗍𝗋𝗂𝖼 𝖳𝗈𝗇𝗌
𝗧𝗼 𝗟𝘂𝗻𝗮𝗿 𝗢𝗿𝗯𝗶𝘁: 70-85 𝖬𝖾𝗍𝗋𝗂𝖼 𝖳𝗈𝗇𝗌
𝗧𝗼 𝗠𝗮𝗿𝘁𝗶𝗮𝗻 𝗢𝗿𝗯𝗶𝘁: 55-65 𝖬𝖾𝗍𝗋𝗂𝖼 𝖳𝗈𝗇𝗌
---
[𝗟𝗮𝘂𝗻𝗰𝗵 / 𝗦𝘁𝗮𝗴𝗶𝗻𝗴 𝗜𝗻𝗳𝗼]
- Select the core stage and set to fill and the side boosters to empty
- Activate engine sets 1 and 2 in the action groups tab, lock heading to current and lunch.
- Before staging the side boosters, throttle down so they don't collide with the core stage.
- Run through the rest of the stages.
[𝗟𝗮𝗻𝗱𝗶𝗻𝗴 𝗧𝗶𝗽𝘀]
Use both engine sets during the initial start of your suicide burn and deactivate one of the two engine sets as the TWR with all four engines can be a little much without a payload. If low on fuel for landing burns, use emergency chutes in combination with your burn as seen below: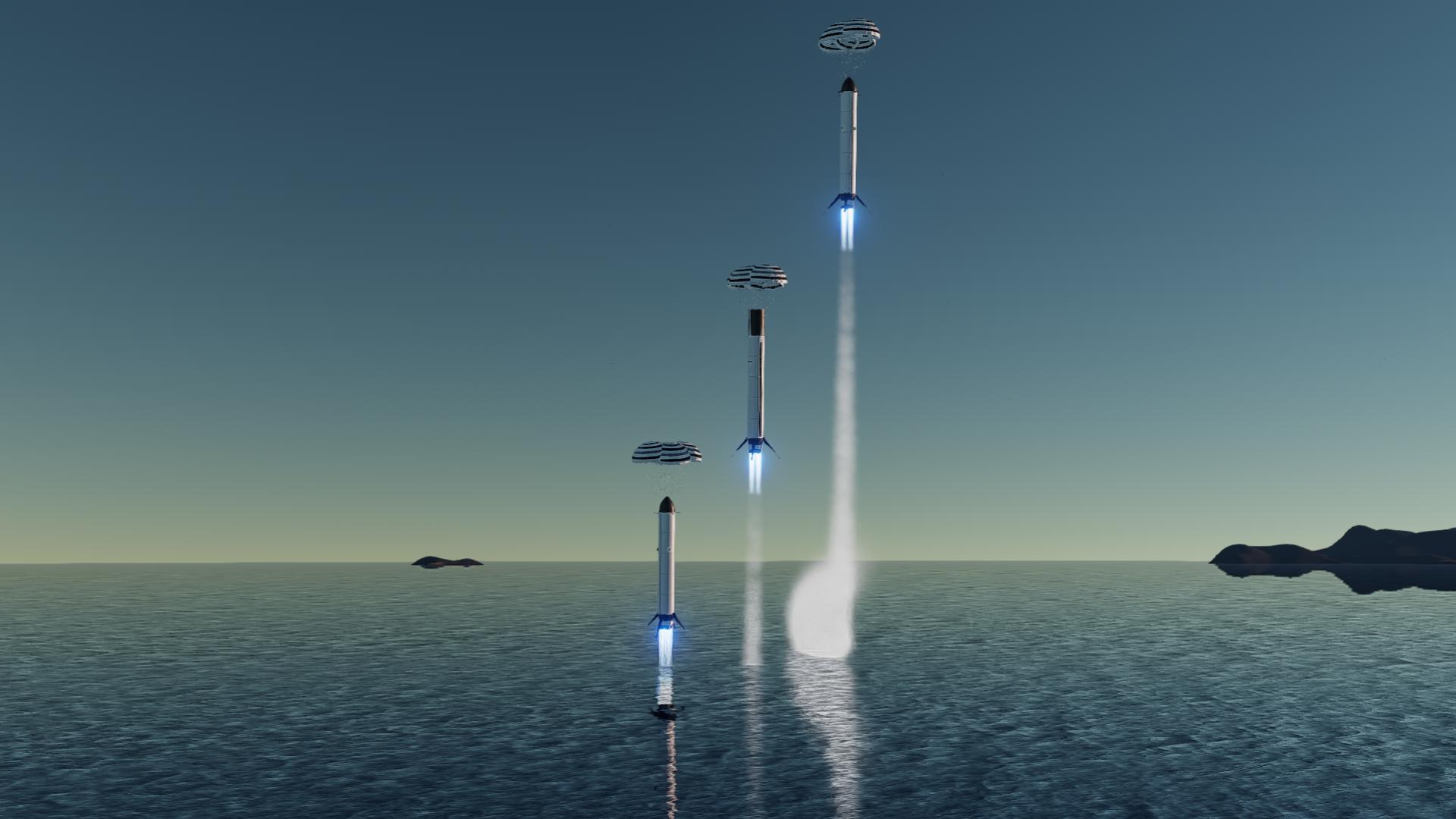 [𝗔𝗰𝘁𝗶𝗼𝗻 𝗚𝗿𝗼𝘂𝗽𝘀 / 𝗦𝗹𝗶𝗱𝗲𝗿𝘀]
1 - 𝖤𝗇𝗀𝗂𝗇𝖾 𝖲𝖾𝗍 1
2 - 𝖤𝗇𝗀𝗂𝗇𝖾 𝖲𝖾𝗍 2
3 - 𝖲𝖾𝖼𝗈𝗇𝖽 𝖲𝗍𝖺𝗀𝖾 𝖤𝗇𝗀𝗂𝗇𝖾
5 - 𝖦𝗋𝗂𝖽 𝖥𝗂𝗇𝗌 (𝘚𝘭𝘪𝘥𝘦𝘳 1)
6 - 𝖤𝗆𝖾𝗋𝗀𝖾𝗇𝖼𝗒 𝖢𝗁𝗎𝗍𝖾𝗌
8 - 𝖫𝖺𝗇𝖽𝗂𝗇𝗀 𝖦𝖾𝖺𝗋
10 - 𝖱𝖢𝖲
[𝗡𝗼𝘁𝗲]
𝖣𝖾𝗉𝖾𝗇𝖽𝗂𝗇𝗀 𝗈𝗇 𝗒𝗈𝗎𝗋 𝗉𝗅𝖺𝗇𝖾𝗍𝖺𝗋𝗒 𝗌𝗒𝗌𝗍𝖾𝗆 𝗉𝖺𝗒𝗅𝗈𝖺𝖽 𝖼𝖺𝗉𝗂𝖼𝗂𝗍𝗂𝖾𝗌 𝗆𝖺𝗒 𝖻𝖾 𝗌𝗎𝖻𝗌𝗍𝖺𝗇𝗍𝗂𝖺𝗅𝗅𝗒 𝖽𝗂𝖿𝖿𝖾𝗋𝖾𝗇𝗍 𝗍𝗁𝖺𝗇 𝗌𝗍𝖺𝗍𝖾𝖽 𝖺𝖻𝗈𝗏𝖾.
𝖳𝗁𝖾 𝗍𝖾𝗅𝖾𝗌𝖼𝗈𝗉𝖾 𝗌𝖾𝖾𝗇 𝗂𝗇 𝗉𝗂𝖼𝗍𝗎𝗋𝖾 #4 𝗐𝗂𝗅𝗅 𝖻𝖾 𝗎𝗉𝗅𝗈𝖺𝖽𝖾𝖽 𝗐𝗂𝗍𝗁𝗂𝗇 𝖺 𝖼𝗈𝗎𝗉𝗅𝖾 𝖽𝖺𝗒𝗌
---
GENERAL INFO
Created On:

Windows

Game Version:

0.9.802.0

Price:

$147,413k

Number of Parts:

543

Dimensions:

75 m x 16 m x 7 m
PERFORMANCE
Total Delta V:

47.8km/s

Total Thrust:

34.0MN

Engines:

13

Wet Mass:

1.2E+6kg

Dry Mass:

-540,537kg
| Stage | Engines | Delta V | Thrust | Burn | Mass |
| --- | --- | --- | --- | --- | --- |
| 1 | 12 | 6.0km/s | 22.5MN | 3.2m | 1.2E+6kg |
| 3 | 1 | 41.8km/s | 11.5MN | 2.9m | 5.76E+5kg |
---