Auto Credit
Based on InfinityTechnology's
Truck
This is the <Fire Stone Carrier Vehicle> in the movie «The Wandering Earth»and its number is CN373,It plays an important role in the movie,it carries the "Heart of the Earth Engine"--The Fire Stone to save the engine in Sulawesi and save the Earth from the gravitation of Jupiter.
Control
Throttle+Pitch up--Forward
AG1--cargo door
]--switch views
Caution: The speed may be low when it start to run because it's really heavy.If you want to be faster,you can change the wheels' motor value.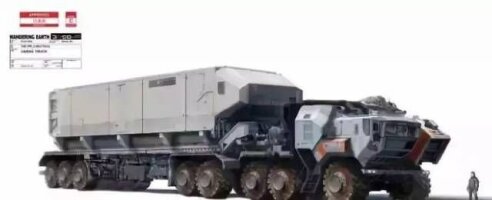 After playing the single truck,you can try this if you like:
Have Fun!
GENERAL INFO
Predecessor:

Truck

Created On:

Windows

Game Version:

0.6.9.2

Price:

$64,296k

Number of Parts:

1621

Dimensions:

47 m x 41 m x 159 m
PERFORMANCE
Total Delta V:

0m/s

Total Thrust:

0N

Engines:

0

Wet Mass:

3.65E+6kg

Dry Mass:

-57,755,108kg
| Stage | Engines | Delta V | Thrust | Burn | Mass |
| --- | --- | --- | --- | --- | --- |
---