I bring to you: THE DROOD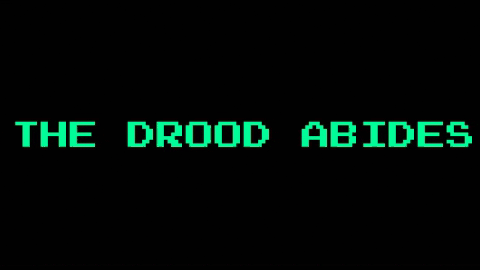 a·bide
accept or act in accordance with (a rule, decision, or recommendation)
similar: obey
---
THE DROOD is a fully programmable and positionable anatomically-modeled Droonaut (astronaut from Droo). Usage of THE DROOD is fairly self-explanatory, but just in case I included some brief instructions below.
---
Instructions:
THE DROOD has 2 modes: manual and automatic. By default THE DROOD is in manual mode, but you can easily switch it to automatic by disconnecting and reconnecting the Vizzy code according to the comments in the code. From the designer screen, just click 'EDIT PROGRAM' and look for the green text comment blocks.
Manual Mode:
In manual mode (the default), each joint may be independently manipulated to create nearly any anatomically possible pose you can think of. Each joint has been modeled to replicate the limits of human flexibility, with just a few exceptions. To activate a joint, select the corresponding Activation Group. Text will appear at the top of the screen indicating the applicable controls for that joint. I recommend opening 6 sliders (pitch, yaw, roll, trans up, trans for, trans right) to make control easier. After positioning the desired joint, you can select another joint and the previous joint will retain the memory of its position.
Logging a Pose:
After positioning all of the joints to create a pose, press AG10 to log the joint values associated with that pose. To open the log: select any part, then select the command chip, then press Open Log. You can either download these values if you have the SR2Logger mod, or if you're on mobile, just copy them into a spreadsheet or manually.
Automatic:
This is where things get fun. If you have a series of poses, as defined by the joint values that you logged using the previous step, you can string these together to create gestures or dances. Just populate the lists in the Vizzy code in the order of the poses, connect the Automatic Vizzy block, and disconnect the Manual Vizzy blocks according to the commented instructions in the Vizzy code. By default, THE DROOD is programmed to do the stationary moonwalk. If you want to make it move across the floor you'll need to connect THE DROOD to an external movement system (like a piston).
---
If you've read this far, congratulations! This project has been something fun I've worked on the side for a few months now, adding little bits here and there. It started because I noticed when playing with the default astronauts that they seemed a bit lifeless. I'm sure some of you have noticed how empty the SR2 universe can seem sometimes. I hope that by introducing this little bit of flair, it inspires some of you to do something creative with THE DROOD. Maybe take him on a beach vacation, or skiing in the mountain... who knows?
GENERAL INFO
Successors

5 craft(s)

+280 bonus

Created On:

iOS

Game Version:

0.9.404.0

Price:

$101,633k

Number of Parts:

197

Dimensions:

2 m x 1 m x 1 m
PERFORMANCE
Total Delta V:

0m/s

Total Thrust:

0N

Engines:

0

Wet Mass:

1E+7kg

Dry Mass:

1E+7kg
| Stage | Engines | Delta V | Thrust | Burn | Mass |
| --- | --- | --- | --- | --- | --- |
---