Auto Credit
Based on InfinityTechnology's
3
This is one of Chinese space surveying vessels called Yuanwang VI.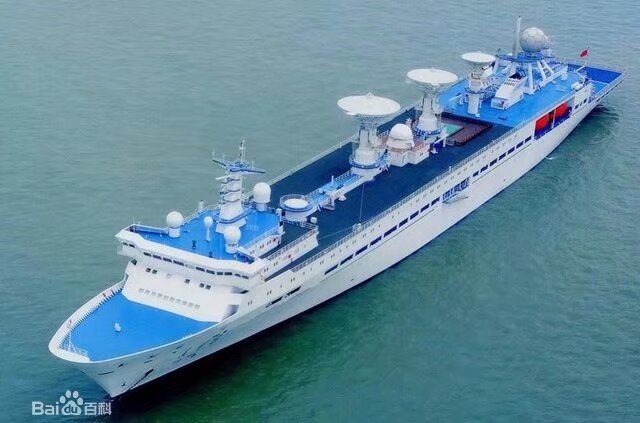 Yuanwang VI surveying vessel is the second third generation space ocean surveying vessel in China. It is a large space ocean surveying vessel with international advanced level developed by China itself. It is designed by the 7th and 8th Research Institute of China Shipbuilding Industry Group Corporation and built by Jiangnan Shipbuilding (Group) Co., Ltd. It has a full capacity of 25,000 tons of drainage and can resist wind up to 12 grades and can be used in North and South latitudes. Navigation in any sea area within 60 degrees.
Yuanwang VI surveying vessel adopts advanced technologies in the fields of ship construction, navigation, meteorology, electronics, machinery, optics, communication, computer and so on. The simultaneous installation of several large-scale TT&C equipment on the deck can not only accomplish the task of tracking and controlling rockets, satellites, spacecraft and other spacecraft at sea, but also is the first time in the history of the construction of the surveying ship. The ship has basic facilities for daily life, including satellite TV, multi-functional club, electronic reading room, gym and so on. It is equipped with a helicopter hangar, a swimming pool in the center of the deck, and a variety of sports activities can be organized in leisure.
On May 5, 2018, he traveled to a predetermined Pacific Ocean to carry out the ocean survey and control mission of Chang'e-4 relay star "Queqiao".
Way to enjoy:Throttle to go toward and Slider1 to the satpots.
GENERAL INFO
Predecessor:

3

Created On:

Windows

Game Version:

0.6.9.2

Price:

$163,440k

Number of Parts:

2941

Dimensions:

112 m x 82 m x 560 m
PERFORMANCE
Total Delta V:

27.4km/s

Total Thrust:

8.0MN

Engines:

5

Wet Mass:

2.04E+5kg

Dry Mass:

-93,225,896kg
| Stage | Engines | Delta V | Thrust | Burn | Mass |
| --- | --- | --- | --- | --- | --- |
| 2 | 5 | 27.4km/s | 8.0MN | 4.03hours | 2.04E+5kg |
---