[Introduction]
𝖳𝗁𝗂𝗌 𝗂𝗌 𝗍𝗁𝖾 𝖦𝖲𝖤 𝖢𝗒𝖻𝖾𝗋 𝖱𝗈𝗏𝖾𝗋 𝗉𝗅𝗎𝗌 𝖺 𝗌𝗂𝗆𝗉𝗅𝖾 𝗌𝗄𝗒𝖼𝗋𝖺𝗇𝖾 𝗋𝗂𝖽𝗂𝗇𝗀 𝗈𝗇 𝗍𝗈𝗉 𝗈𝖿 𝗆𝗒 𝖿𝗎𝗅𝗅𝗒 𝗋𝖾𝗎𝗌𝖺𝖻𝗅𝖾 𝖠𝗌𝗍𝗋𝗎𝗆 𝖨𝖵 𝖧𝖾𝖺𝗏𝗒.
[Rover Features and Info]
Laserblade headlights/tail lights
Four Antennas
Rotating Camera
Soil Scanner
One Solar Panel (Effieciency Rate of 2.0)
𝖳𝗁𝖾 𝖱𝗈𝗏𝖾𝗋 𝗂𝗌 𝗆𝖺𝖽𝖾 𝗐𝗂𝗍𝗁 𝖺 𝖿𝖾𝗐 𝖷𝖬𝖫 𝖾𝖽𝗂𝗍𝖾𝖽 𝗉𝖺𝗋𝗍𝗌 𝗌𝗈 𝗋𝖾𝗌𝗂𝗓𝗂𝗇𝗀 𝖺𝗇𝖽 𝗈𝗋 𝗍𝖺𝗆𝗉𝖾𝗋𝗂𝗇𝗀 𝗐𝗂𝗍𝗁 𝗍𝗁𝖾 𝗉𝖺𝗋𝗍𝗌 𝗐𝗂𝗅𝗅 𝗋𝖾𝗏𝖾𝗋𝗍 𝗍𝗁𝖾𝗆 𝖻𝖺𝖼𝗄 𝗍𝗈 𝗇𝗈𝗋𝗆𝖺𝗅.
[Launch/Flight Instructions]
Select core booster and set to fill
Select side boosters and set to empty
Launch!
(𝙏𝙞𝙥𝙨)
𝖴𝗌𝖾 𝗍𝗁𝖾 𝖼𝗈𝗋𝖾 𝗌𝗍𝖺𝗀𝖾 𝗍𝗈 𝗀𝖾𝗍 𝖺 𝗅𝗈𝗍 𝗈𝖿 𝗒𝗈𝗎𝗋 𝖼𝗂𝗋𝖼𝗎𝗅𝖺𝗋𝗂𝗓𝖺𝗍𝗂𝗈𝗇 𝖻𝗎𝗋𝗇 𝖼𝗈𝗆𝗉𝗅𝖾𝗍𝖾𝖽 𝖻𝖾𝖿𝗈𝗋𝖾 𝗌𝗍𝖺𝗀𝗂𝗇𝗀 𝗍𝗁𝖾 𝗎𝗉𝗉𝖾𝗋 𝗌𝗍𝖺𝗀𝖾.
𝖶𝗁𝖾𝗇 𝖾𝗇𝗍𝖾𝗋𝗂𝗇𝗀 𝗍𝗁𝖾 𝖺𝗌𝗍𝗆𝗈𝗌𝗉𝗁𝖾𝗋𝖾 𝗐𝗂𝗍𝗁 𝗍𝗁𝖾 𝗌𝗄𝗒𝖼𝗋𝖺𝗇𝖾 𝖻𝖾 𝗌𝗎𝗋𝖾 𝗍𝗈 𝗁𝖺𝗏𝖾 𝗀𝗒𝗋𝗈𝗌𝖼𝗈𝗉𝖾 𝖺𝗇𝖽 𝖱𝖢𝖲 𝖺𝖼𝗍𝗂𝗏𝖺𝗍𝖾𝖽.
[Action Groups and Sliders]
1: 𝖯𝗈𝗐𝖾𝗋
2: 𝖱𝖾𝖺𝗋 𝖬𝗈𝗍𝗈𝗋𝗌
3: 𝖫𝗂𝗀𝗁𝗍𝗌
4: 𝖢𝖺𝗆𝖾𝗋𝖺
- 𝖫𝖾𝖿𝗍/𝖱𝗂𝗀𝗁𝗍 (𝖲𝗅𝗂𝖽𝖾𝗋 1)
- 𝖴𝗉/𝖣𝗈𝗐𝗇 (𝖲𝗅𝗂𝖽𝖾𝗋 2)
5: 𝖲𝗈𝗂𝗅 𝖲𝖼𝖺𝗇𝗇𝖾𝗋
6: 𝖠𝗇𝗍𝖾𝗇𝗇𝖺𝗌
7: 𝖲𝗈𝗅𝖺𝗋 𝖯𝖺𝗇𝖾𝗅
8: 𝖦𝗒𝗋𝗈𝗌𝖼𝗈𝗉𝖾
9: 𝖢𝗋𝖺𝗇𝖾 𝖤𝗇𝗀𝗂𝗇𝖾𝗌
10: 𝖱𝖢𝖲
11: 𝖯𝖺𝗋𝖺𝖼𝗁𝗎𝗍𝖾𝖺
12: 𝖧𝖾𝖺𝗍𝗌𝗁𝗂𝖾𝗅𝖽 𝖱𝖾𝗅𝖾𝖺𝗌𝖾
13: 𝖢𝗁𝗎𝗍𝖾/𝖲𝗁𝖾𝗅𝗅 𝖱𝖾𝗅𝖾𝖺𝗌𝖾
14: 𝖱𝗈𝗏𝖾𝗋 𝖣𝖾𝗍𝖺𝖼𝗁𝗆𝖾𝗇𝗍
~
15: 𝖦𝗋𝗂𝖽 𝖥𝗂𝗇𝗌 (𝖥𝗂𝗋𝗌𝗍 𝖲𝗍𝖺𝗀𝖾)
16: 𝖫𝖺𝗇𝖽𝗂𝗇𝗀 𝖦𝖾𝖺𝗋 (𝖥𝗂𝗋𝗌𝗍 𝖲𝗍𝖺𝗀𝖾)
____________________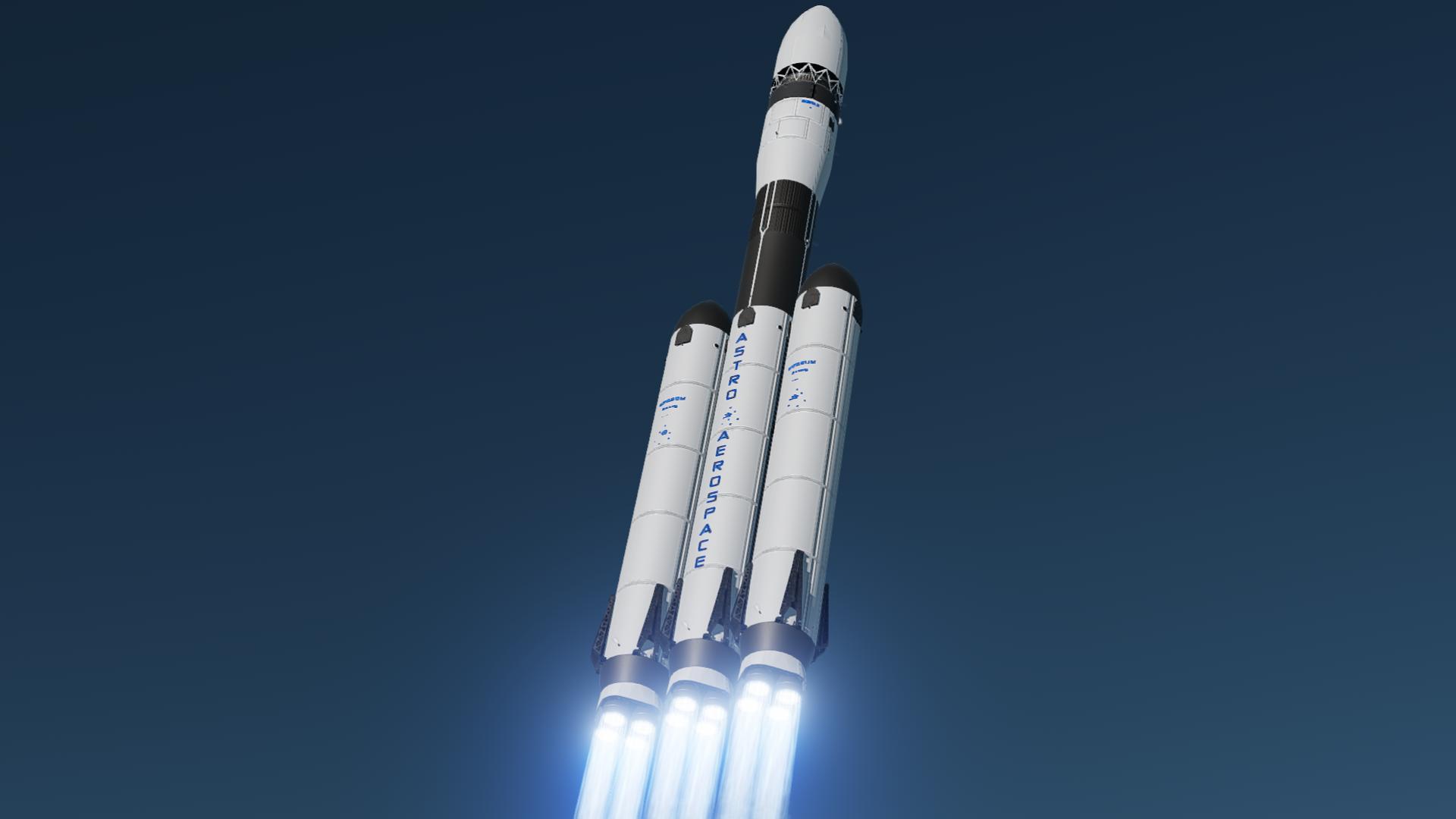 GENERAL INFO
Created On:

Android

Game Version:

0.9.704.0

Price:

$145,781k

Number of Parts:

966

Dimensions:

72 m x 16 m x 7 m
PERFORMANCE
Total Delta V:

48.1km/s

Total Thrust:

34.3MN

Engines:

17

Wet Mass:

1.03E+6kg

Dry Mass:

-569,270kg
| Stage | Engines | Delta V | Thrust | Burn | Mass |
| --- | --- | --- | --- | --- | --- |
| 1 | 12 | 6.0km/s | 28.1MN | 2.7m | 1.03E+6kg |
| 4 | 1 | 40.4km/s | 5.9MN | 5.7m | 2.71E+5kg |
| 10 | 4 | 1.8km/s | 247kN | 81s | 15,805kg |
---