Hi
About the craft:
The "F-32II" is an unmanned stealth fighter jet. It's made to be a wingman for a lead human pilot. As to support the pilot on special missions.
And if the mission is too dangerous or "risky" for a human pilot. You could just launch a full squadron of these boys, they'll get the job done no problems. Ayy
---
Containing a simple flight control system for the roll & pitch axis. I know, weird there's no stabilization for the yaw axis... SHHHH...
---
It's a very capable fighter, easy to land, and an almost all stealth design this time.
Containing the least amount of right angles, while conserving on the part count as possible. Not really.
---
Fun fact: Stealth jets are designed to have no right angles.
For more information check these links:
Both excellent YouTube channels, highly recommended.
---
Perfomance:
It's stealthy, Did I mention that already?
Capable of Mach 1.8+ with a full tank.
Meaning it can reach Mach 2+

Reaching altitudes close to ~21,000m

Landing speed is around 65m/s and below, depending on the fuel percentage. And how slow you're willing to go...
---
Controls:
Alt + F4
Slider1 for trim. It's very needed

AG1 for the performance display

AG10 to turn on the engines

AG7 for the weapons bay

AG6 for the drag-chute

AG5 a.k.a. the "shooty shooty bang bang" button. for missiles.
The weapons Bay opens automatically so you can focus on the shooting.

---
gallery:
---
Here's the Original.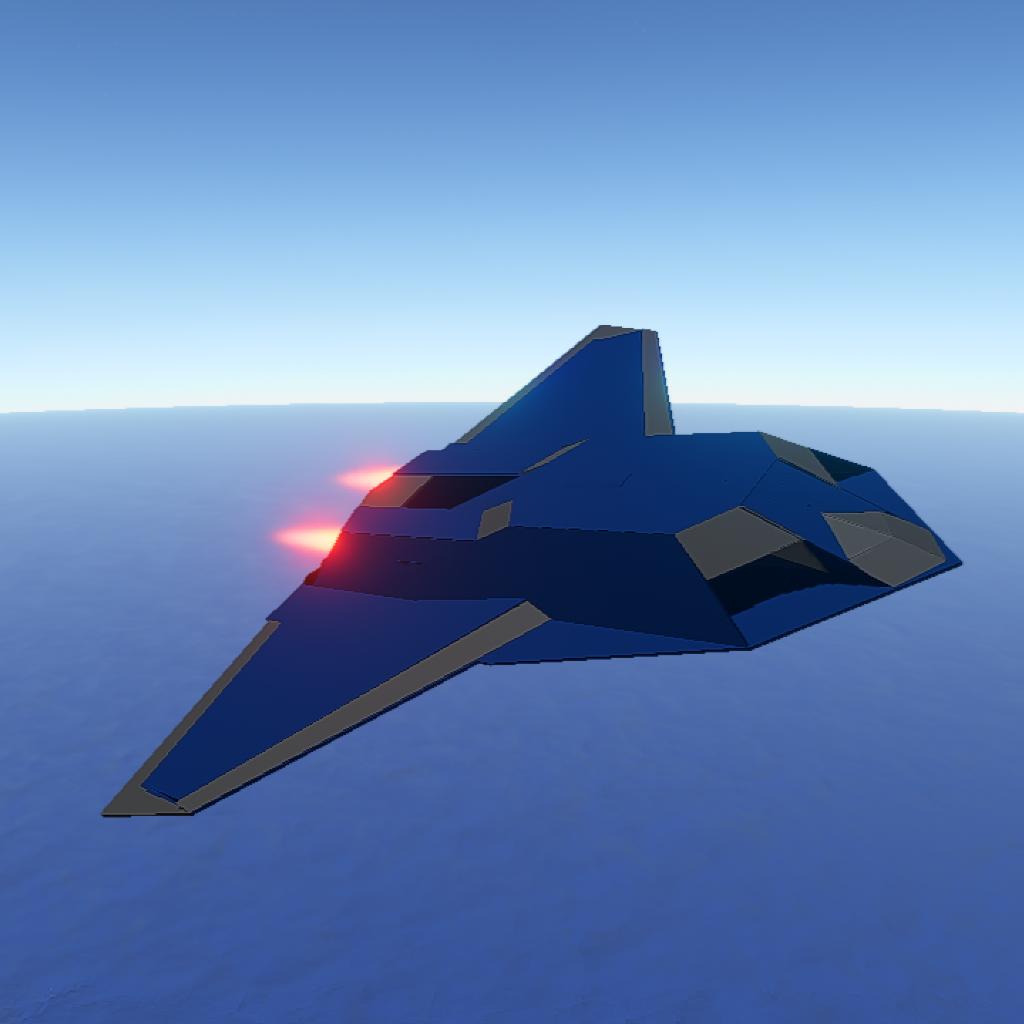 That's why this post is 'MK II'
And please if you have any feedback, don't hesitate. All are welcome. 😁
Anyway...
HAVE A FUN FLIGHT!
GENERAL INFO
Predecessor:

SDJ/F-32

Created On:

Android

Game Version:

0.9.404.0

Price:

$18,709k

Number of Parts:

747

Dimensions:

4 m x 15 m x 18 m
PERFORMANCE
Total Delta V:

15m/s

Total Thrust:

317kN

Engines:

5

Wet Mass:

48,851kg

Dry Mass:

27,498kg
| Stage | Engines | Delta V | Thrust | Burn | Mass |
| --- | --- | --- | --- | --- | --- |
| 3 | 2 | 0m/s | 0N | 0s | 48,851kg |
| 7 | 3 | 15m/s | 317kN | 3s | 48,851kg |
---