We are still working hard on Planet Studio. It's taking every ounce of our souls to get this thing ready for player consumption, but we are getting closer and we hope to release it in early December. After that, we will focus on the Career Mode as we work toward leaving early access on Steam next year.
Planet Studio has been a behemoth project and it should be since it sets out to allow the player to build things like small rocky asteroids, terrestrial planets with oceans and an atmosphere, gas giants with rings, suns, and anything in between. Nathan has been developing this terrain generation system for nearly four years and it is truly incredible what it is capable of doing, not to mention that is insanely optimized and can even run well on mobile devices!
We have had trouble really using the terrain generation system to its fullest until Pedro came along. He has been blowing our minds with his creativity in finding ways to model realistic terrain features. Fortunately for players, they can easily leverage Nathan and Pedro's hard work by selecting from a set of templates, or any planet from the community, as a starting point for their planet and then adjusting basic settings and randomizing values to alter the planet's terrain.
However, creating truly unique planets will require some knowledge of how to use the built-in noise functions, which can be quite complicated. Fortunately, there will be many planets available that can be used as a reference.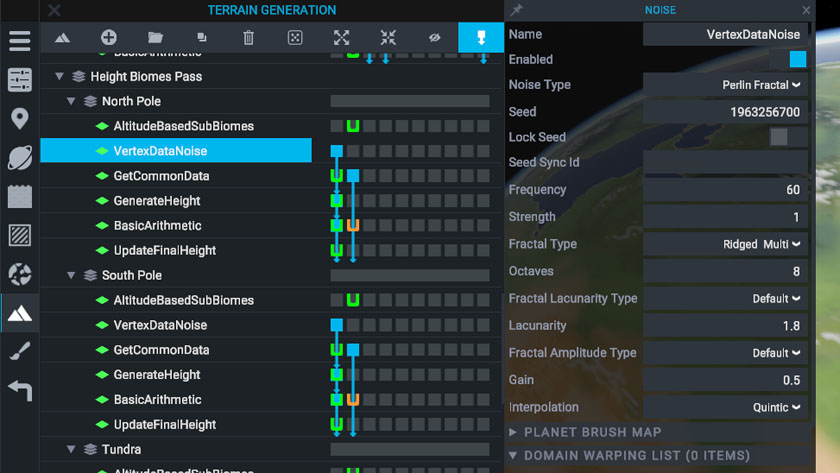 Now that the planet templates are nearly finished, Pedro will start from scratch to rebuild and expand the stock planetary system. He will be maintaining the general feel of the existing planets but will be giving them more interesting features and make them more visually appealing. While we continue finishing this project up, we thought you might be interested in seeing some sneak peeks of a few of the new planet templates that Pedro has been working on.