I just wanted to remind everyone that our games are free for educators to use in the classroom! If you are taking a physics class, let your teacher know that SimplePlanes and SimpleRockets 2 are great ways to demonstrate physics concepts.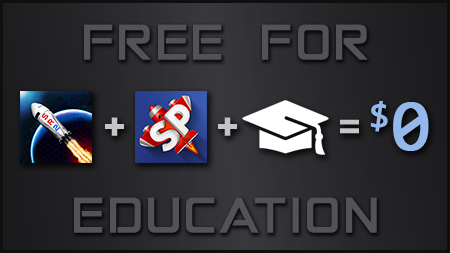 Since starting this program, nearly 300 schools have opted in and well over 30,000 free licenses have been requested. We've heard many great things over the years about how teachers are using our games in the classroom. They lend themselves well to teaching physics concepts and students seem to enjoy them. Fundamental concepts such as velocity, acceleration, gravity, lift, drag, etc can easily be demonstrated with an airplane or a rocket hurtling through the atmosphere at hypersonic speeds and that has a way of grabbing and maintaining a student's attention. SimpleRockets 2 goes a step further and can demonstrate advanced concepts such as orbital mechanics and many other rocket science concepts.
If you are an educator, just visit this page and click the Submit Request button. After we review your request, you will be given access to the downloads page where you can freely download our games for Windows and Mac.
If you are a student, help spread the word and let your teachers know!